HAPPY BIRTHDAY, BRETT!!!!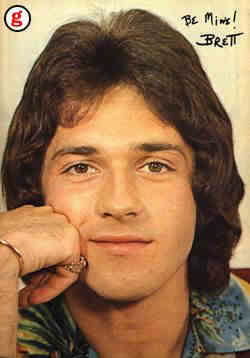 JANUARY 18!!
MINE IS THE WISDOM OF THE AGES.
I HOLD THE KEY TO THE MYSTREIES OF LIFE.
CASTING MY SEEDS ON FERTILE GROUND
I NUTURE THEM WITH CONSTANCY AND PURPOSE.
MY SIGHTS ARE FIXED.
MY GAZE UNCHANGING.
UNYIELDING, INEXORABLE AND DEEP
I ADVANCE WITH STEADY, UNSLACKENED GAIT,
THE SOLID EARTH BENEATH ME.

I AM THE SNAKE.

PHILOSOPHICAL, WISE, CALM AND UNDERSTANDING, THOUGH OFTEN FICKLE OR SELF-INDULGENT. ELEGANT TO THE POINT OF BEING OSTENTATIOUS. CAN BEHAVE SELFISHLY IF CROSSED.

PHILOSOPHER, THEOLOGIAN, POLITICAL WIZARD, WILY FINANCER-THE SNAKE PERSON IS THE DEEPEST THINKER AND ENIGMA OF THE CHINESE CYCLE. HE IS ENDOWED WITH AN INBORN WISDOM OF HIS VERY OWN; A MYSTIC IN HIS OWN RIGHT. GRACEFUL AND SOFT-SPOKEN, HE LOVES GOOD BOOKS, FOOD, MUSIC, THE THEATER; HE WILL GRAVITATE TOWARD ALL THE FINER THINGS IN LIFE. THE MOST BEAUTIFUL WOMEN AND POWERFUL MEN TEND TO BE BORN UNDER THIS SIGN. SO IF YOU ARE ONE OF THE SNAKE PEOPLE, YOU ARE IN GOOD COMPANY.

A PERSON OF THIS SIGN GENERALLY RELIES ON HIS OWN JUDGEMENT AND DOES NOT COMMUNICATE WELL WITH OTHERS. HE CAN BE DEEPLY RELIGIOUS OR PSYCHIC OR ON THE OTHER HAND, TOTALLY HEDONISTIC. EITHER WAY, HE TRUSTS HIS OWN VIBRATIONS RATHER THAN OUTSIDE ADVICE. MORE OFTEN THAN NOT...HE WILL BE RIGHT.
YEAR OF THE SNAKE: 1905, 1917, 1929, 1941, 1953, 1965, 1977, 1989, 2001, 2013, 2025